Background on the Fiat CR.25
The Fiat Cr.25 was designed and built by Celestino Rosatelli's team in 1937. The aircraft proved itself to be one of Fiat's best productions for the multipurpose role aircraft. The Fiat CR.25 was a solid, elegant and well-finished aircraft that quickly displayed its potential. The aircraft proved itself to be flexible at carrying out several tasks such as long-range fighter, medium range fast reconnaissance, light bomber, and even fast passenger cargo.
A Cold Reception
The first prototype, piloted by Valentino Cus, provided some excellent results. The Cr.25 had a solid metal construction and reached a maximum speed of 304 mph (490 km/h). This was fairly impressive for the time. Unfortunately, the CR.25 did not capture the attention of the Regia Aeronautica High Command. The Regia Aeronautica was leaning towards other models, such as the Caproni 311 and the Breda Ba.88. A shortage of engines was another issue.  The Fiat CR.25 used the same engines as the Fiat G.50 and Macchi C.200.
The Regia Aeronautica initially ordered 40 aircraft from Fiat, but the order was eventually reduced to ten. The CR.25's ordered were reclassified as CR.25bis due to some slight customizations. In July 1941, six aircraft were deployed to the173a Squadriglia Ricognizione Strategica Terrestre in Sicily. The pilots were enthusiastic about the aircraft.
Exceptional, but Short Service
None of the Fiat CR25 experienced technical issues after almost 400 hours of convoy escorts to Libya and reconnaissance flights over Malta. In fact, the CR.25 made a few aerial victories against British torpedo bombers out of Malta. By October 1942 the twin-engined Caproni Ca.314 began replacing the CR.25's.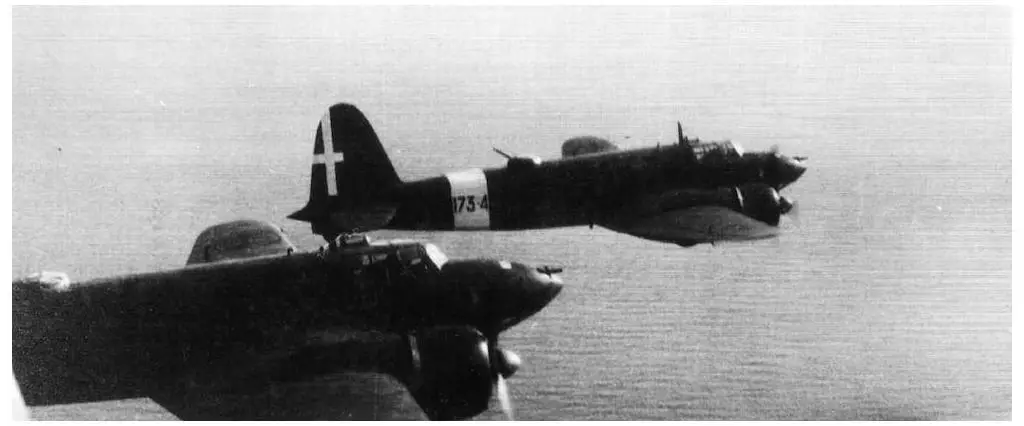 During the spring of 1943, Fiat proposed a new prototype believed to be equipped with 1175 hp engines and armed with two 20 mm Mauser guns. However, the project was never carried out.
The Fiat CR25 was considered so reliable that the Regia Aeronautica Mission at the Gatow airport in Berlin adopted it for its frequent non-stop flights to Rome-Ciampino.
Variants
The following variants of the CR.25 were produced.
CR.25 : Two reconnaissance bomber prototypes built.
CR.25bis : Ten units deployed as reconnaissance and long-range fighter escort.
CR.25D : Passenger aircraft for the Italian air attaché in Germany.
CR.25quater : The first flight occurred in 1940. The 25quater had better armament and a larger wingspan.
Specifications
Model
Fiat CR.25
Crew
2-3
Length
44 ft 6 in (13.56 m)
Height
10 ft 10 in (3.30 m)
Weight
Empty: 9,845 lb (4,475 kg) Max: 14,575 lb (6,625 kg)
Wingspan
52ft 6 in (16m)
Powerplant
Two Fiat A.74 RC.38 producing 840 hp each
Max Speed
304 mph (490 km/h) at 18,000 ft (5500 m)
285 mph (460 km/h) for the Serie Bis variant
Range
925 miles (1,500 km)
Service Ceiling
26,076 ft (7,950 m)
Armament
3 Breda Safat 12.7 mm machine guns (two fore and one dorsal)
(Visited 451 times, 1 visits today)