Background on Italo Balbo
Italo Balbo was born in Quartesana, Italy, on June 6, 1896. At the outbreak of World War I, he enlisted in the Alpini mountain infantry of the Italian army and served with distinction. In all, Balbo earned one bronze medal, two silver medals for military valor, and achieved the rank of Captain by the end of his service. Later, after he earned a degree in Social Sciences in Florence, Balbo went back to Ferrara and joined the Fascist Party. When they offered him an appointment to Secretary, he accepted it enthusiastically. Subsequently, he quit his job as a bank clerk. Balbo was an enthusiastic fascist, however, he opposed Benito Mussolini's alliance with German Nazis.
The Celibanisti Fascist Unit
There was a fear of Bolshevik influence spreading across Northern Italy. This led to the formation of many fascist gangs (fasci). In fact, Italo Balbo was one of the hundreds who participated in these gangs. As an active member, he proved himself as an adept commander and organizer of his gang. The name of his unit was "Celibanisti" or "Celibano." Interestingly, the Celibano name derived from the squad's ritual of ordering a specific cherry brandy in the afternoons at Caffe Mozzi in Piazza del Duomo.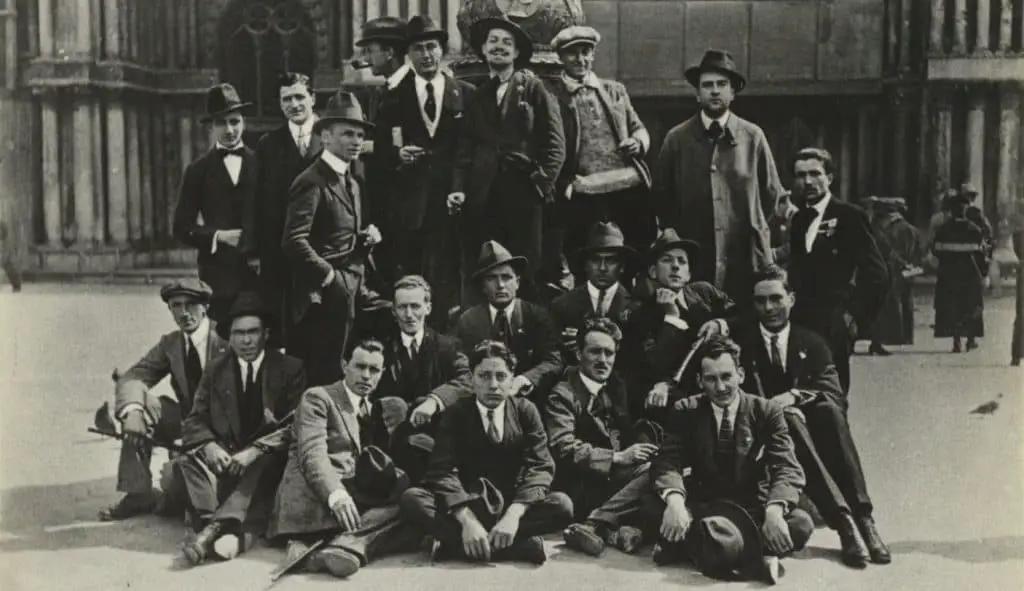 The Celibanisti became infamous as ruthless henchmen for landowner reprisals against rural strikes and demonstrations. In Mesola, Copparo, Massa Fiscaglia and other centers around Ferrara, the Celibanisti directed their violence towards Socialists, Communists, and Democratic parties. On June 24, 1921, Balbo raided Portomaggiore with 4,000 other Blackshirts where they shot, beat, and killed people during a two day period.
Similar actions were repeated in Ravenna, Modena, and Bologna. While in Parma, the Celibanisti were stopped by barricades erected by the city's communist members.
The March on Rome
Italo Balbo's reputation became so well known that when leading members of the Fascist Party united to discuss an attempt to seize power with a coup de main, they decided to nominate him as a Quadrumvir for the March on Rome.
With the Fascists all in favor of an armed insurrection without mediation, they arrived in Rome in October 1922 without having to fire a single round. This was accomplished thanks to a silent agreement made with King Victor Emmanuel III, who refused to issue martial law. Without this order, the Army could not stop the Blackshirts.
Murder of Father Giovanni Minzoni and Escape to Rome
Father Giovanni Minzoni, a parish priest, was an anti-fascist who vocally rejected fascist indoctrination attempts with local youths. On August 23, 1923, someone murdered Father Minzoni in the town of Argenta. Two Fascist squadristi were charged, and Italo Balbo was implicated in ordering his death. Although the two squadristi later received acquittals of Minzoni's murder in 1925, the inflammatory newspaper articles directed towards Balbo were enough for him to flee Ferrara and move to Rome.
Balbo's Rise to Power
Between 1922 and 1929, Italo Balbo quickly rose through the ranks of the Fascist party.
Promoted to Commander in Chief of the Militia in 1922
Advanced to Secretary of State for National Economy on October 25, 1925
Promoted to Undersecretary of the Air Force in November 1926
Advanced to General of the Air Fleet on August 19, 1928
Promoted to Air Minister on September 12, 1929
Rebuilding the Regia Aeronautica
When Balbo became Minister of the Air Force, he knew little of flying. He took it upon himself to learn and within a short period of time became an accomplished pilot.
Balbo is credited for reinvigorating the Regia Aeronautica. He developed the concept of mass flight, built a "speed school" near Lake Garda as well as the squadriglie d'alta quota (high quota fliers) for high elevation flying. Under Balbo's leadership, Italy went from having a fledgling Air Force to holding many speed and distance records.
Balbo began conducting a number of long-distance flights with multiple aircraft to demonstrate his mastery of mass flight logistics. This was no easy feat considering the limited instrumentation at the time. He organized the first flight which took place between December 17, 1930, to January 15, 1931. Twelve Savoia Marchetti S.55X flew on a 10,400 km journey from Orbetello to Rio de Janeiro, Brazil. Two years later, he would complete another mass flight that would make him world famous.
A Century of Progress Fair
Between July 1 and August 12, 1933, Balbo commanded twenty-two Savoia Marchetti S.55X seaplanes that flew from Orbetello to the United States. The aircraft landed in Chicago on July 15th to take part in the Century of Progress Fair. Balbo was welcomed like a hero and his triumph was almost unprecedented in history. At the Fair, Chief Blackhorn of the Sioux Indian tribe appointed Balbo as "Chief Flying Eagle". The festivities did not end there. While flying to various locations in the United States, New York held a parade in his honor and President Roosevelt met Balbo for lunch, awarding him the Distinguished Flying Cross. In 1934, Chicago renamed 7th St to Balbo Drive in honor of his aerial achievement.
Balbo received the same great honors upon his return to Italy. In Rome, he and his airmen were paraded under Constantine's Arch. Later, Balbo was promoted in rank and became the first ever Air Marshal of the Regia Aeronautica.
Italo Balbo's Relationship with Mussolini
Balbo was the heir-apparent to Mussolini, however, their relationship was complex. Balbo was an international sensation, and, thus, scores of people loved the man. Mussolini most likely considered Balbo's mass appeal and achievements to be a threat. Some speculate that Mussolini, therefore, dispatched Balbo to become Governor of Libya in 1933. Balbo understood Mussolini as the leader of the Fascist party and was loyal to him. But Balbo was against Italy's growing ties with Germany and the Italian racial laws implemented in 1938.
Balbo's Views on Germany
If Italo Balbo had his way, Italy would have never sided with Germany. Balbo did not trust the Germans and resented their racial laws. When Mussolini announced the formal alliance with Germany at the Grand Council in March 1939, Balbo was quoted as saying "You are licking Germany's boots!"
Because of Balbo's inherent rebellious nature, he would find subtle ways to aggravate his new German partners. When Balbo hosted Hermann Goering in Libya between April 9-12, 1939, they served an honorary dinner to Goering at the Governor's palace. Balbo intentionally invited 12 middle-class Jews from the community as his other dinner guests. Later, Balbo gave Goering a tour of Tripoli to include a visit to the Jewish quarter and synagogue.
Governor of Libya
On November 7, 1933, Italo Balbo became Governor of Libya. This prompted his move to the African country on January 1, 1934. Subsequently, Italy began investing heavily in what was quickly becoming an Italian colony or, as they phrased it, "Italy's fourth shore." As the new governor, Balbo made a number of infrastructural improvements in Libya. For example, his involvement in public works projects such as highways and rail lines bolstered the Libyan economy to levels never seen before. Additionally, he built the Litoranea Libica coastal highway which stretched across the Libyan coast. Consequently,  this resulted in one of Balbo's greatest achievements. After Balbo's death, the highway received a new name, Via Balbia, in honor of the memory of Balbo.
Balbo was one of the original supporters of colonizing Libya with Italian peasants. Therefore, in October 1938, Balbo accompanied 20,000 Italian peasants on sixteen ships to start their new lives in Libya. It was the first of many mass migrations by Italians. By 1940, approximately 110,000 Italians were living in Libya. Ultimately, the mass migration was so monumental that 12 percent of the Libyan population was of Italian origin.
Loved by Troops
Following Italy's declaration of war in 1940, Governor Balbo received an appointment as Commander of Africa Settentrionale Italiana (Italian North Africa). Consequently, Balbo moved his headquarters from Tripoli to Cyrene to be closer to the front. As commander, Balbo had earned the love of his troops and their morale was high. Evidently, Balbo would regularly fly to the outermost bases to ensure his forces were ready for battle. Balbo's intention was to invade Egypt on July 17, 1940, in concert with the German invasion of the United Kingdom in Operation Sea Lion.
Death of Italo Balbo
On June 28, 1940, someone mistakenly shot down a Savoia-Marchetti SM.79 above the skies of Tobruk, Libya. Unfortunately for him, Balbo was on that plane when the incident ended in a fatal crash. The friendly fire came from anti-aircraft guns of the San Giorgio cruiser which was at anchor in Tobruk harbor. Some people believed that the death of Italo Balbo was intentional. However, witnesses did state that they could not see the markings on the aircraft. Consequently, they thought the plane was hostile.
Additional References:
Segré, C. G. (1972). Italo Balbo and the Colonization of Libya. Journal of Contemporary History, 7(3), 141–155
Related Images:
(Visited 789 times, 1 visits today)