Regio Eserecito Components
The following tables provide a breakdown of the Regio Esercito components during World War Two.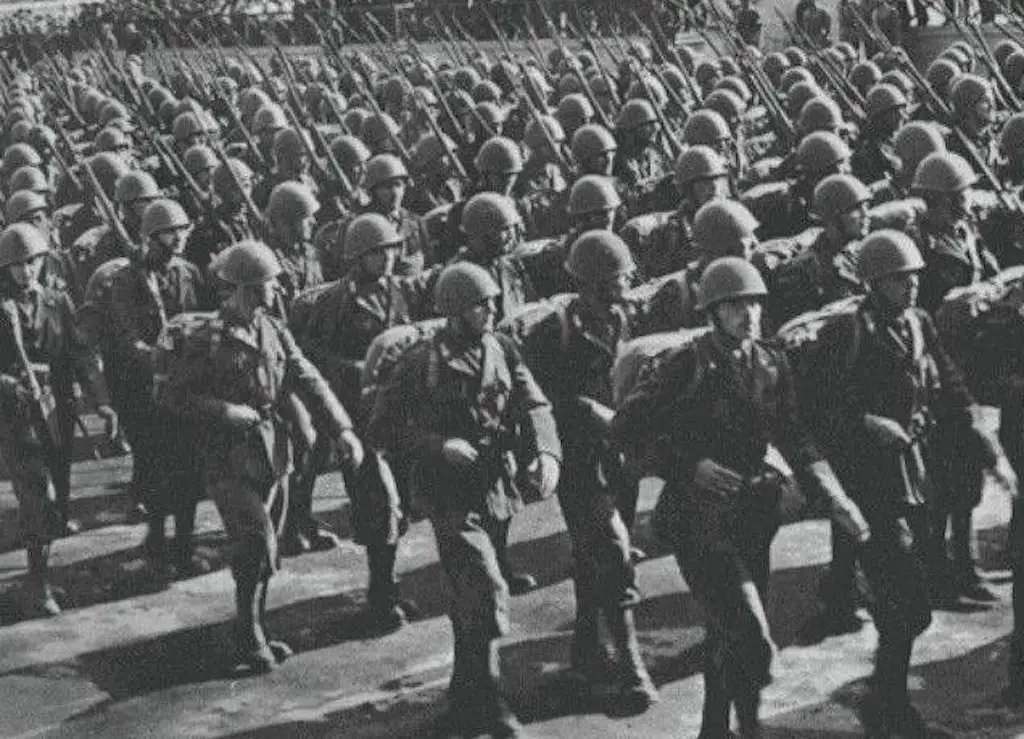 Number and Title
Infantry Regiment
Brigade Title
Artillery Regiment
13th Re
1st – 2nd
23rd
29th Piemonte
3rd – 4th
24th
28th Aosta
5th – 6th
22nd
6th Cuneo
7th – 8th
27th
50th Regina
9th – 10th
50th
56th Casale
11th – 12th
56th
24th Pinerolo
13th – 14th
18th
55th Savona
15th – 16th
12th
33rd Acqui
17th – 18th
33rd
27th Brescia
19th – 20th
55th
44th Cremona
21st – 22nd
7th
14th Isonzo
23rd – 24th
Como
6th
15th Bergamo
25th – 26th
4th
17th Pavia
27th – 28th
26th
26th Assietta
29th – 30th
Pisa
25th
51st Siena
31st – 32nd
51st
4th Livorno
33rd – 34th
28th
16th Pistoia
35th – 36th
3rd
3rd Ravenna
37th – 38th
121st
25th Bologna
39th – 40th
205th
37th Modena
41st – 42nd
29th
36th Forli'
43rd – 44th
36th
30th Sabauda
45th – 46th
Reggio
16th
23rd Ferrara
47th – 48th
14th
49th Parma
49th – 50th
49th
22nd Cacciatori delle Alpi
51st – 52nd
1st
2nd Sforzesca
53rd – 54th
Umbria
17th
32nd Marche
55th – 56th
32nd
10th Piave
57th – 58th
Abbruzzi
20th
102nd Trento (mot)
61st – 62nd
Sicilia
46th, 7th Bersaglieri
59th Cagliari
63rd – 64th
59th
101st Trieste (mot)
65th – 66th
Valtellina
21st, 9th Bersaglieri
58th Legnano
67th – 68th
Palermo
58th
61st Sirte
69th – 70th
Ancona
43rd
38th Puglie
71st – 72nd
15th
57th Lombardia
73rd -74th
57th
54th Napoli
75th – 76th
54th
7th Lupi di Toscana
77th – 78th
30th
9th Pasubio
79th – 80th
Roma
8th
52nd Torino
81st- 82nd
52nd
19th Venezia
83rd- 84th
19th
60th Sabratha
85th – 86th
Verona
42nd
20th Friuli
87th – 88th
35th
5th Cosseria
89th – 90th
Salerno
29th
1st Superga
91st- 92nd
Basilicata
5th
18th Messina
93rd- 94th
2nd
103rd Piacenza
111th – 112th
37th
104th Mantova
113th – 114th
11th
62nd Marmarica
115th – 116th
Treviso
44th
155th Emilia
119th – 120th
155th
153rd Macerata
121st – 122nd
153rd
80th La Spezia (airborne)
125th – 126th
80th
41st Firenze
127 th – 128th
41st
151st Perugia
129th – 130th
151st
47th Bari
139th – 140th
47th
64th Catanzaro
141st – 142nd
203rd
12th Sassari
151st – 152nd
34th
63rd Cirene
157th – 158th
Liguria
45th
48th Taro
207th – 208th
?
53rd Arezzo
225th (Lecce)-226th
53rd
105th Rovigo
227th – 228th
117th
11th Brennero
231st – 232nd
Avellino
9th
152nd Piceno
235th – 236th
152nd
154th Murge
259th – 260th
154th
156th Vicenza
277th-278th-279th
?
158th Zara
291st – 292nd
?
21st Granatieri di Sardegna
1st-2nd-3rd grenadier
13th
? Granatieri di Savoia
10th-11th-12th grenadier
?
Parachute Divisions
| | | | |
| --- | --- | --- | --- |
| 184th Nembo | 183rd-184th-185th | – | 184th |
| 185th Folgore | 186th-187th | – | 185th |
Armored Divisions
| | | | |
| --- | --- | --- | --- |
| 132nd Ariete | 32nd Tank | 132nd Artillery | 8th Bersaglieri |
| 133rd Littorio | 33rd tank | 133rd Artillery | 12th Bersaglieri |
| 134th Centauro | 31st Tank | 131st Artillery | 5th Bersaglieri |
| 136th Giovani Fascisti | 3 Tank Battalions | 1st Artillery Regiment | 3 Bersaglieri Bns |
Celere Divisions
1st Eugenio di Savoia
14th Alessandria Cavalry Regiment
1st Celere Artillery Regiment
11th Bersaglieri Regiment
2nd Emanuele Filiberto Divisions
9th Lancers Firenze Regiment
10th Lancers Vittorio Emanuele II Regiment
2nd Celere Artillery Regiment
6th Bersaglieri Regiment
3rd Principe Amedeo Duca d'Aosta Division
3rd Dragoons Savoia Regiment
5th Lancers Novara Regiment
3rd Celere Artillery Regiment
3rd Bersaglieri Regiment
Alpini Divisions
| | | |
| --- | --- | --- |
| 1st Taurinense | 3rd-4th Alpini Regiment | 1st Mountain Artillery Regiment |
| 2nd Tridentina | 5th-6th Alpini Regiment | 2nd Mountain Artillery Regiment |
| 3rd Julia | 8th-9th Alpini Regiment | 3rd Mountain Artillery Regiment |
| 4th Cuneense | 1st-2nd Alpini Regiment | 4th Mountain Artillery Regiment |
| 5th Pusteria | 7th-11th Alpini Regiment | 5th Mountain Artillery Regiment |
| 6th Alpi Graie | 3rd-4th Groups 'Valle' | 6th Mountain Artillery Regiment |
(Visited 129 times, 1 visits today)